Looking at a map of the Netherlands, the city of Groningen nestles itself away in the North. And being the northernmost major city in the country, it takes an average of two-hours by car and train to get there, and in Dutch terms, that's a pretty long journey. But don't let its location fool you, I think this is where Groningen does shines in its own light. I decide to feed my curiosity and make the trip up north. I hitch a ride on BlaBlaCar, a popular ridesharing service in Europe, and didn't have to wait long for the arrival of my driver (and co-driver), Ronel and John, a Dutch couple who are making their way northbound from a trip to Belgium.
Driving on the A6 highway, I become mesmerized with the lush greenery and vastness of Flevoland, the newest of the twelve provinces of the Netherlands situated between Utrecht and Groningen, dredged right of the Ijsselmeer. Farmlands and polders stretch out into the empty blue horizon. Seemingly endless clusters of wind turbines dot the landscape, animating the otherwise undulating terrain and giving it an almost alien-like character.
After the two-hour ride, I end up at the city's main train station just before four in the evening. The sky remains a spotless blue, and a gradual shade of evening orange could barely be marked out in the horizon ahead, hidden behind the mixture of brick and concrete facades surrounding me.
Throughout most of my time in Groningen, I would Couchsurf as well as stay with friends of mine I met during my prior adventures in Nepal and Indonesia, all of which I am looking forward to seeing. I quickly get my bearings and proceed on foot to Tanya's house, where I would surf with her for four days.
After a couple of days here, Groningen is quickly becoming my favorite of all the cities I've been to so far in the Netherlands. It seems to have a healthy mix of youthful culture, walkability, vibrant character, and a distinctive, unique identity– all contained within a medium-sized city. From the small-time cafés dotted in and around the city center to its buzzing nightlife, its large student population and thriving arts scene is what gives the city a modern, youthful touch, while the park of Noorderplantsoen, the serene lakes of Hoornsemeer and Paterswoldsemeer add a sense of natural beauty to the surrounding region for those looking to breathe in some fresh air and escape the city life for the day.
Compared to Amsterdam, and even Utrecht, Groningen's city center isn't very big, and navigating it is a breeze. Needless to say, cycling is the fastest, easiest and cheapest way to travel in Groningen as it takes less than 30 minutes by bike to get from any place in the city to the center, and vice versa. Its limits are clearly demarcated by a canal that encircles the city center, and a number of foot and vehicle bridges provide access from all sides. It's small enough that it's possible to circumnavigate it in about an hour or two on foot. Houseboats of all shapes and sizes line the canal walls, and sailboats temporarily moored sway nonchalantly in the calm waters.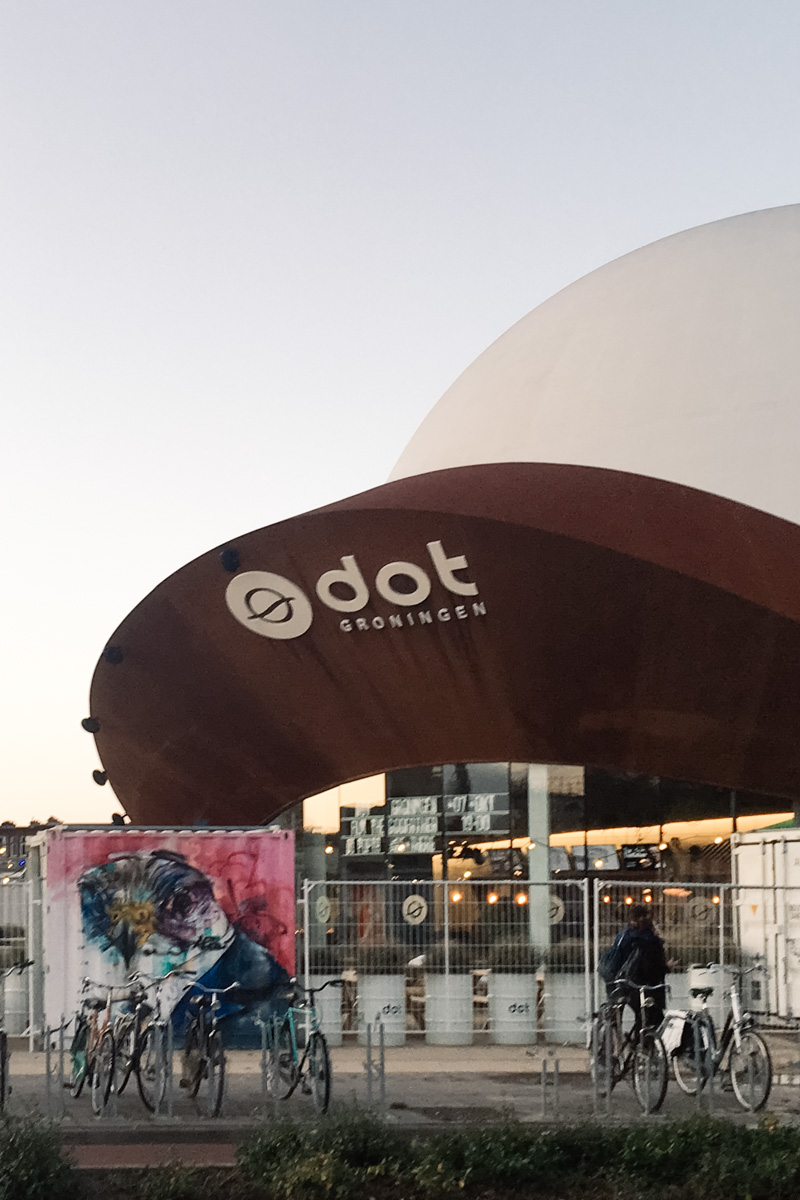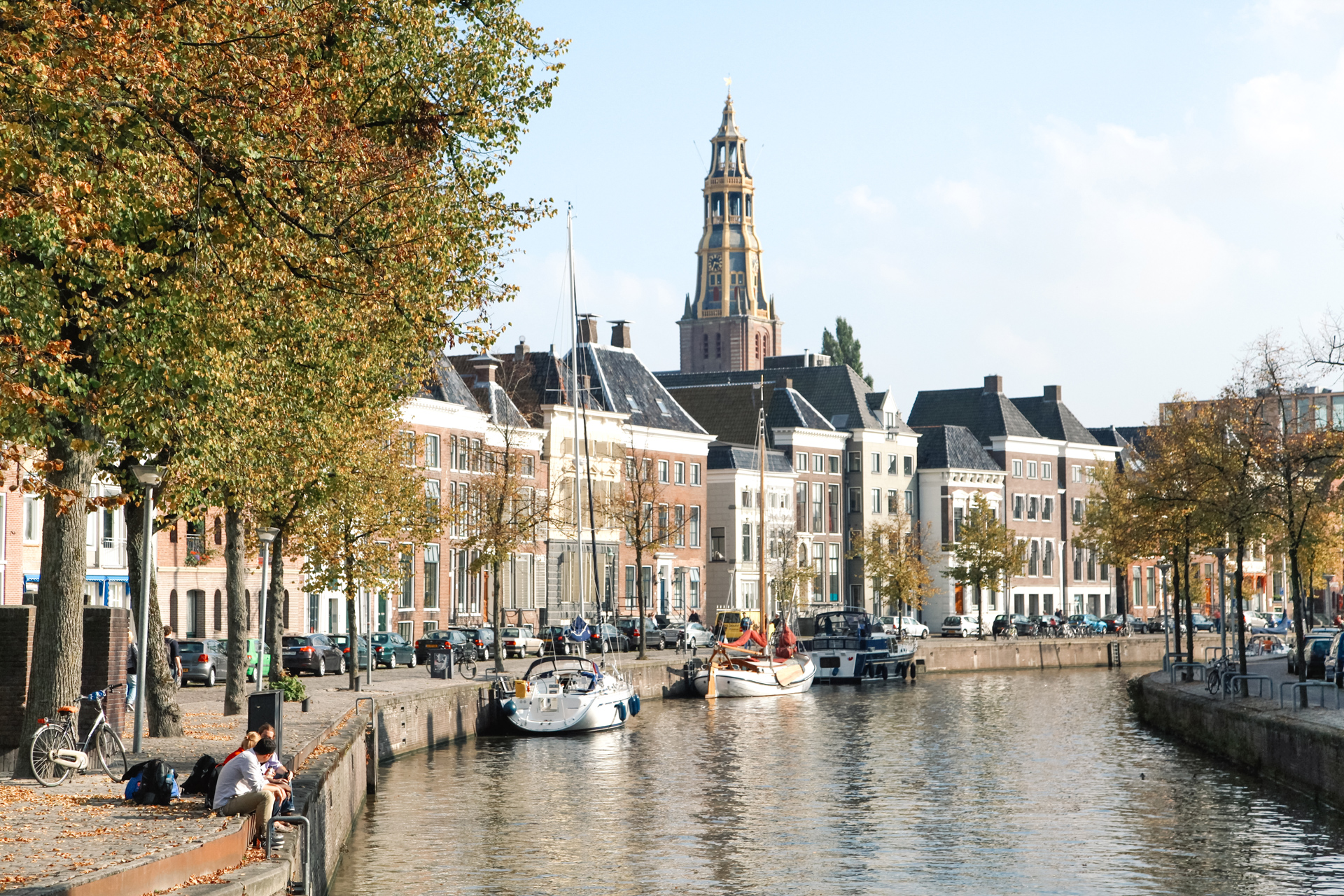 As I explore the city streets with my host Tanya, we are flanked on both sides by influences of modern, neo-classical and gothic architecture. The imposing monolith of the Martinikerk's tower, Groningen's unmistakeable church tower, maintains a watchful eye over us as we meander through the city's mix of narrow brick streets and open plazas. Speaking of plazas, the city really comes alive at Vismarkt and the historical Grotemarkt, both of which are the beating hearts of the city, playing host to bi- and tri-weekly markets and attracting a large percentage of the city's population. If an outdoor department store existed, this would be a prime example of it. The square quickly becomes abuzz with patrons looking to do their shopping here, or binge on freshly-made stroopwafels and pepernoten. On the perimeters, people lounge on the outdoor seating areas of restaurants and cafes, engaging in conversations over a coffee or a beer. You can quite possibly do your shopping for the day entirely in these labyrinths of white tents and mobile trailers. Flowers, flower pots, handicrafts, clothes, fresh fish, meat, organic fruit and vegetables, some delivered straight from the local farmlands, are just some of the things you can come across here.
Tanya went out of her way to bring me around for a few more days outside the city. After a short bike ride from Groningen proper, I end up in Reitdiephaven, a colorful Scandinavian-influenced neighborhood, where blocks of minimalist-styled houses sat in rows overlooking its attached marina and contrasted the light grey sky that spread out over us.
The sight of cattle, sheep and domesticated horses, together with the distinct, pungent smell of fertilizer invade my senses as we continue biking through the farmlands and past the small community of Dorkwerd, embarrassing myself along the way as I lose my balance cycling while taking videos with my phone. We visit the park in Hornsemeer on my second-last day with her, stopping at an Albert Heijn at the entrance to the park to pick up some pre-made salads and a few snacks. We enjoy a picnic on the grass next to the lake thereafter with her friend Monika, and play a few card games together amidst the pleasant, albeit windy weather.
We meet up with a few other Italian Couchsurfers and Tanya's friends for a drink before we hit Vera, one of the most popular nightlife spots in Groningen located in on of the old 14th-century brick houses on Oosterstraat. The spot features concerts, movies and dance nights in addition to the usual partying. It has played host to bands that later became famous– U2, The White Stripes, Sonic Youth, Nirvana, Beck are some of the few that have graced the stage here.
You must be wondering, after three articles about the Netherlands and barely any mention of marijuana– well here's where it comes. We manage to score a good deal of marijuana to smoke on a Friday at a place called Taverne Oasis tucked away just outside the city center– and here's where you're able to purchase 25 grams of weed, consisting of six different strains, for about 25 Euros, on a Friday. I knew it would be a wiser choice to buy it outside of Amsterdam, where I would surely be ripped off by prices up to three times the usual price! Tanya and I go Dutch (pun fully intended) on the weed of course, and by the time I would leave the city I would still have a few sachets full.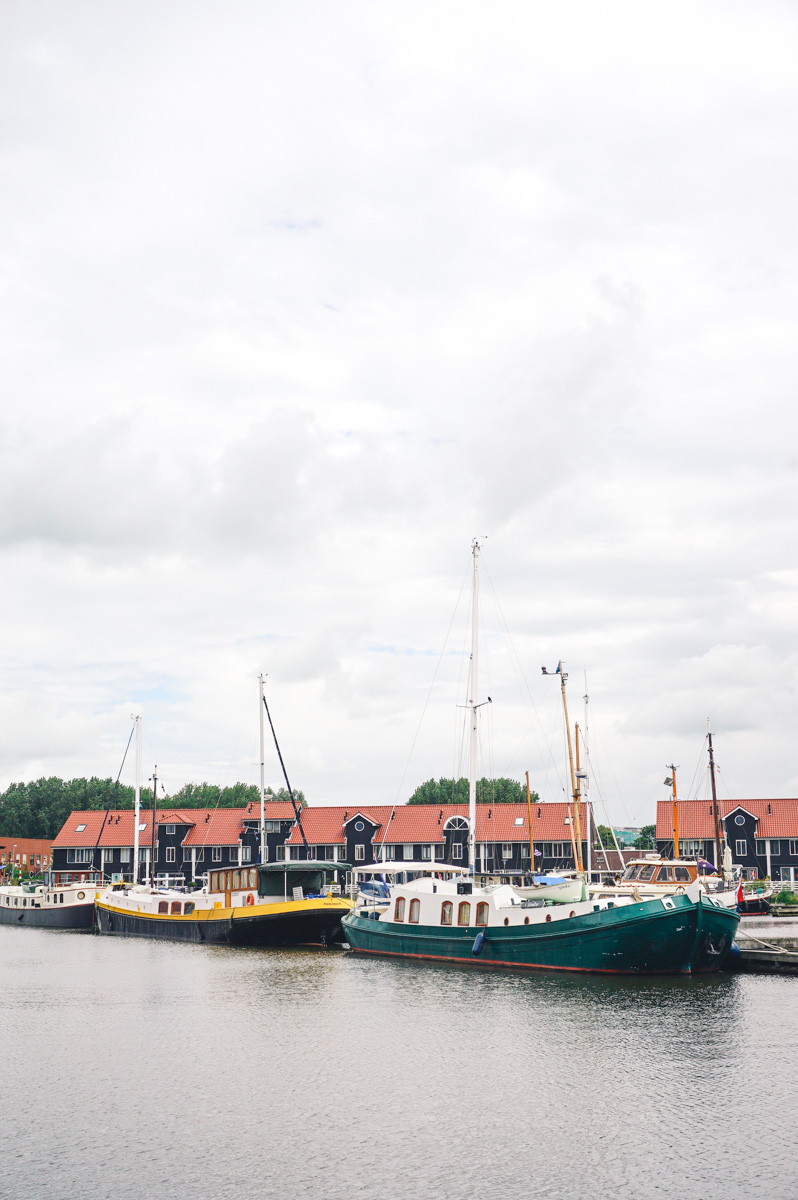 Work spots in Groningen? I've Got You Covered
De Uurwerker
Well-hidden amongst the alleyways in the city center, De Uurwerker (The Hourworker) reveals itself in front of a small square surrounded by local bars and the narrow houses typical of Dutch architecture. It's a flexible spot to get work done, offering tables large and small, in addition to bar-type seats along the windows. Its close proximity to the University of Groningen attracts a younger audience, making it an ideal place to connect with people.
Uurwerkersplein 1, 9712 EJ Groningen, Netherlands
CoffeeCompany
A popular coffee chain in the Netherlands, CoffeeCompany has a pair of branches in the city center and its open layout provides a warm, cozy working environment. Power outlets are plentiful along the study tables so you won't have a problem with charging your devices here, although it can get a little crowded with students during the exam period. Also, the latte's here are lekker!
Carolieweg 33, 9711 LR Groningen (My personal favorite)
ANAT
A vegan-friendly coffee place located outside the city center, near Noorderplantsoen. This spot on the corner of Kerklaan and Oranjesingel offers a very homely atmosphere, in addition to the beautiful view of the park right opposite. Outdoor seating is also available for those looking for some fresh air. Not a bad way to spend day working in the morning and going for a stroll later in the evening!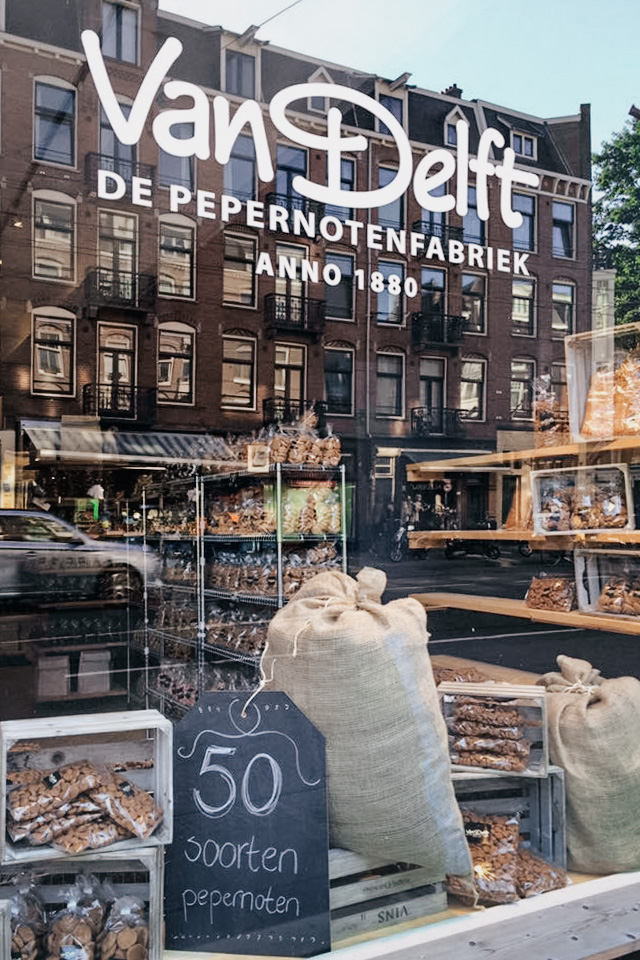 I would stay with my friend Gerry who I acquainted with in Nepal back in January, for another six days. Having recently completed his 7-month trip by land through Europe all the way to Asia, I'm looking forward to hearing about his experiences and to catch up with him in his hometown. We reunite at the main bus station and off we go towards Harkstede, a quiet town half an hour east of Groningen. Great times were had catching up over wine, live football matches, VICE shows and home-cooked meals in his spacious home (with an even bigger backyard).
The town of Harkstede is located amongst a calm sea of flower and corn fields rippling idly in the wind. Of course I couldn't help but borrow his bicycle and cycle aimlessly for hours among the plains, appreciating the silence of the landscape around me. The occasional sounds of cows, horses and sheep became the music of my journey around this personal paradise of mine. I think it's an unspoken rule that you can not go to The Netherlands and never take a bike ride out into the countryside. The silence and humbling vastness is something I would definitely recommend you to experience for your first time in the Netherlands. Coming from Singapore, where you can almost never see the horizon because of the abundance of high-rise apartments and skyscrapers, there's always something special about being surrounded by nothing but a vast landscape of empty green fields and farmlands.
It's times like these that I hold dear, that make being abroad solo completely worth it, and actually being able to live happily day-to-day with locals and friends, and experiencing their cities and where they grew up in from their perspective.
With agriculture being the largest business in the region for least eight centuries, the community of Slochteren, where Harkstede is located in, houses for the most part commuters to nearby towns and cities including Groningen, Appingedam and Delfzijl. Slochteren also contains the largest natural gas field in Europe– the Groningen Gas Field, a prime source of natural gas deposits first discovered in the late 1950's that propelled the Dutch oil and gas industry to the global stage. This might come not only as a blessing, but a curse as well– as extraction from the gas field is operated in a joint venture between Royal Dutch Shell and ExxonMobil, and recent drillings in the past decade have introduced earthquakes with an average Richter scale of 3 to the region, damaging property around the area. This has eventually led to increased public demonstrations against the extraction of natural gas deposits and rightfully so, those affected are compensated by the Dutch government for the damage accordingly.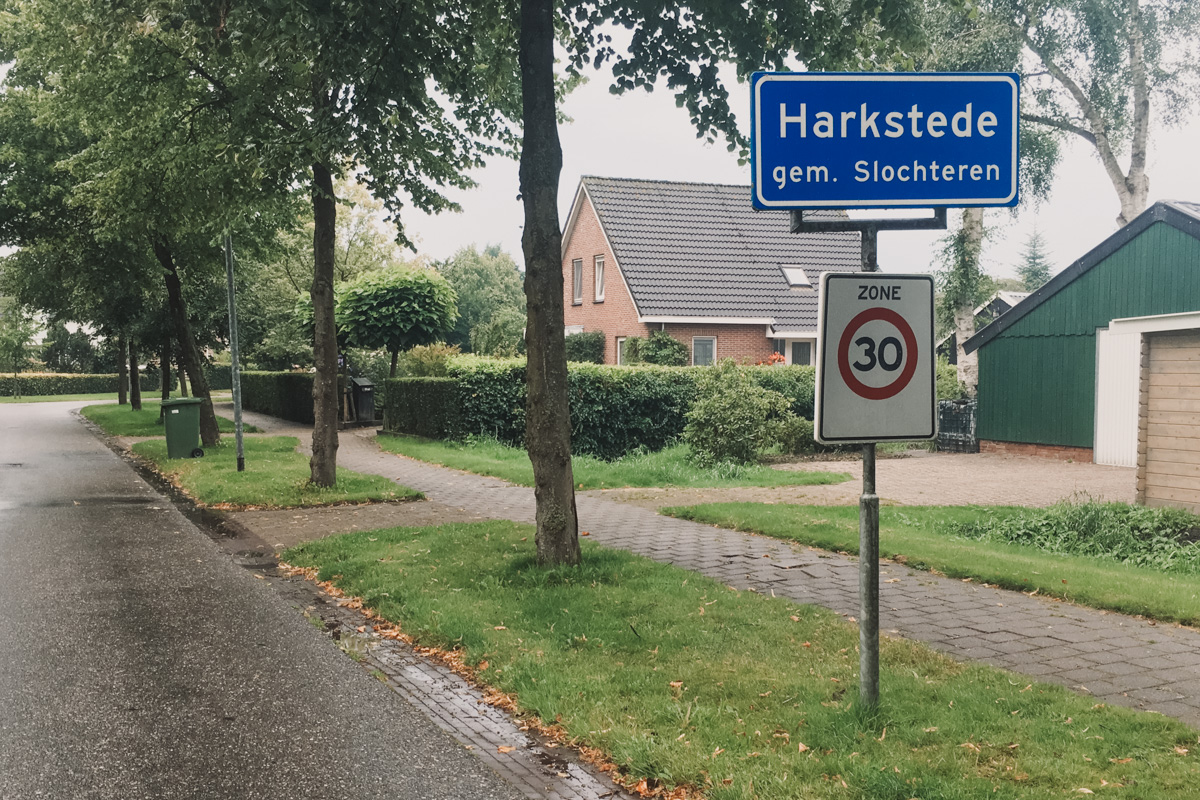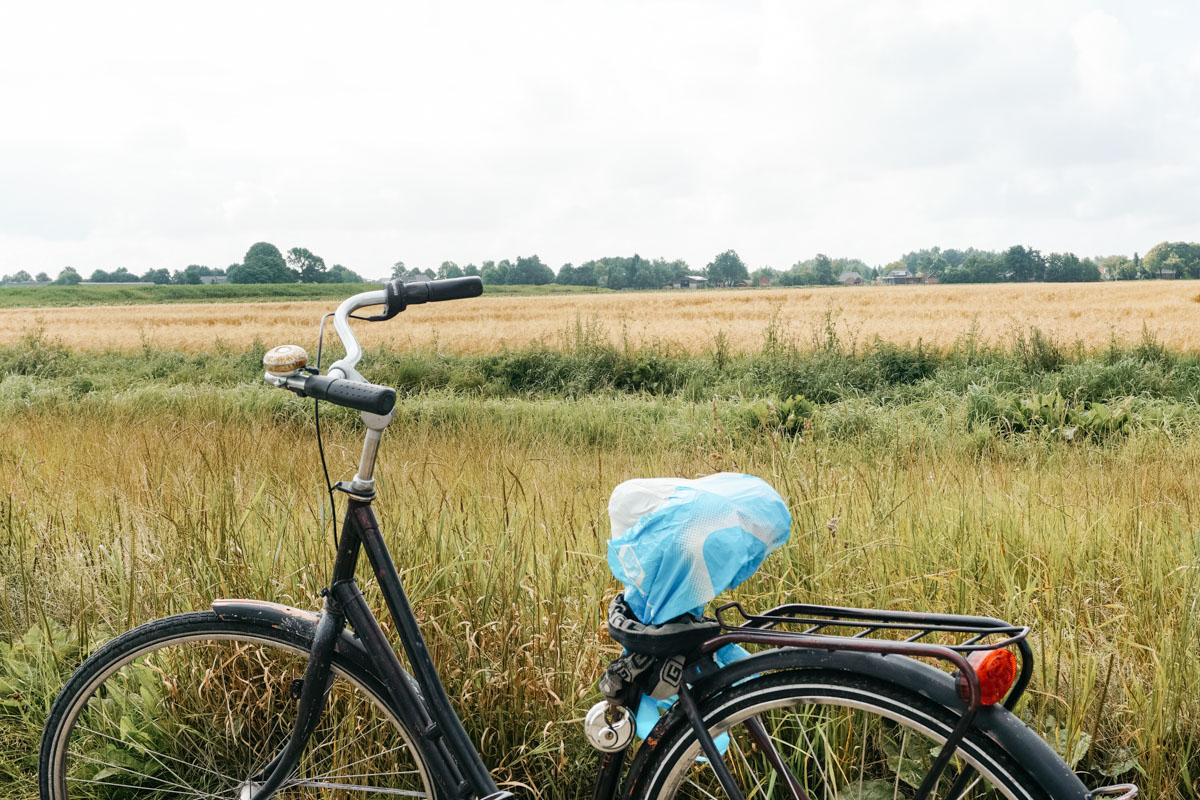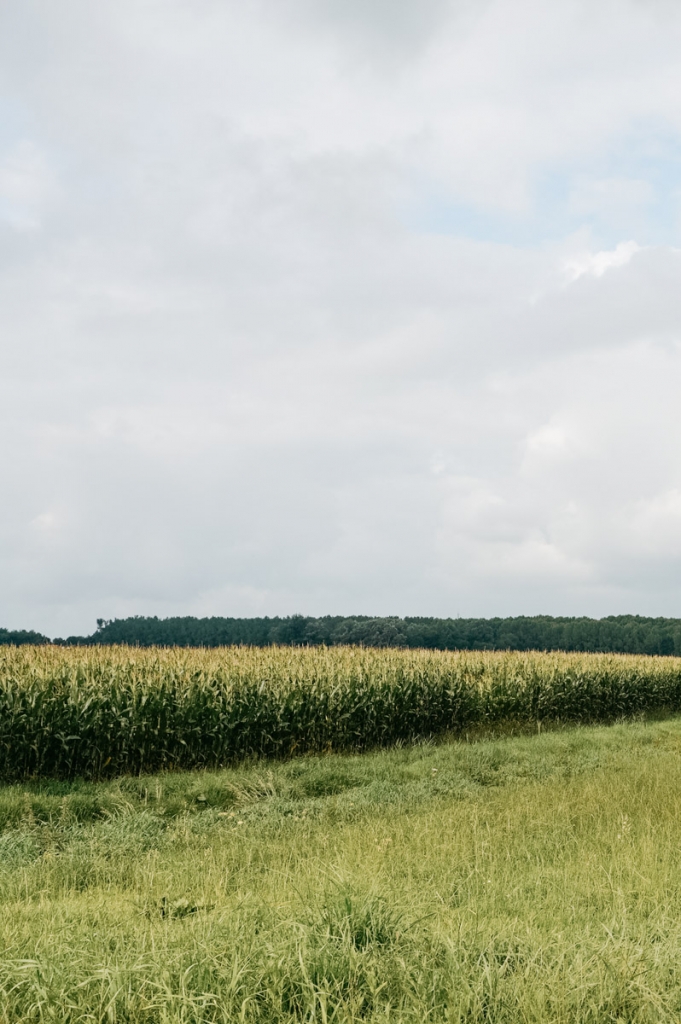 As the fall season slowly makes its inevitable appearance, I decide to feed my curiosity and travel further up the province of Groningen to the comparatively smaller communities of Appingedam and Bierum, where the latter of which I would stay a night at the childhood home of my friend Roanne, whom I met in Lombok, Indonesia. Her father, Fred, is kind enough to pick me up at the train station in Appingedam after a half-hour's train ride from Groningen station, before taking me on a ride through some of the less-frequented, more sparsely-populated areas in the northeast. Swathes of farmlands occupy most of the region producing potatoes, sugar beets, oil seeds, grain, dairy products, cattle and wool making.
A quiet, charming town with a population of just over 13,000, Appingedam is well-known around the region for its hangende keukens, or hanging kitchens, a unique display of classic Dutch architecture dating back to the late 1870's. Small rooms are intentionally built sticking out of building sides above the Damsterdiep canal, over which a pair of wooden bridges crossing the canal provide a nice vantage point where I spent a few minutes in admiration, despite the light showers and gloomy atmosphere. After all, as the Dutch have grown used to, it's really a mental battle when it comes to inclement weather in the Netherlands.
We next stop in Delfzijl, and after passing through what is the town center I am met with the imposing earthen structure of a dike stretching endlessly into the horizon along the coastline. The grey sky above eventually reveals blotches of pale blue as we walk along the grassy ridgeline standing at about two to three storeys high, battling against the fierce southeasterly winds blowing in from the Wadden Sea as we go. Even the local population of seagulls seem to be having a hard time flying against the wind, appearing to be levitating instead amidst the powerful breeze. Curious about the faint stretch of landmass that straddles the horizon in the distance to my east, I fire up Google Maps and quickly identify it to be the shoreline of northwestern Germany, and there in between us lies the gaping mouth of the Ems river.
Fred gives me a quick introduction of the basic workings of the Wadden Sea dike that stretches from Delfzijl to Eemshaven, the northernmost tip of the Netherlands, shielding much of the flat, low-lying expanses of the province of Groningen from the looming threat of the Wadden Sea. The dike contains floodgates that open to let water out during low tide, and close to prevent flooding at higher tides, and they can be found at a few points along the structure. On a few occasions throughout the decades, severe storms have managed to breach the dike's perimeter, temporarily flooding the roads and buildings directly behind it. Its height has been continually raised over time as a result of its failure to keep water out. I stand under one of these solid metal gates, noting out the marks etched in the metal where the sea level stood over the course of a hundred years or so. While the rising sea level has been a large concern in Delfzijl, let alone in the Netherlands, it is particularly interesting to see first-hand the methods the Dutch are pioneering to combat climate change and incorporating sustainable practices into their lives at the same time.
We end the day in Bierum, Roanne's hometown, and following my introduction to the rest of her family, we enjoy a traditional Dutch dinner of baked potatoes, meat patties and applesauce. This tiny village of just under 700 residents sits quietly surrounded by acres and acres of farmland and then some. I look through the windows to hear the bleats of the neighbors' sheep, when Roanne's younger brother Joran, offers to bring me out to the backyard to have a closer look, and in the process, takes out an extra pair of wooden klompen, more commonly known as clogs, for me to try on. I suppose the experience of me being immersed in Dutch countryside life couldn't have been more authentic than this! What do you call that feeling when you laugh and hesitate at the same time? I don't know how to explain it, but I put them on eventually, and as I've learnt (the painful way), there is a special method which you have to walk. Clogs have been traditionally made entirely from wood to protect the whole foot from debris and keeping feet warm while laboring in the fields.
Gezellig.
"A general and abstract sensation of individual well-being that one typically shares with others. All descriptions involve a positive atmosphere, flow or vibe that colors the individual personal experience in a favorable way and in one way or another corresponds to social contexts. Someone belonging. Time spent with loved ones. The fact of seeing a friend after a long absence. The general togetherness that gives people a warm feeling.
A word representing the very heart of Dutch culture."