Annapurna
Coming Full Circle
Reality hit me with a cold, numbing blow. The dawn air was hellishly freezing, and I couldn't comprehend waking up to similar, if not worse, temperatures at high altitudes in mere days. The darkness and fog of the early morning did little to hide the bus station from bustling with activity, the street peddlers were all over the waiting areas touting their wares and food on their carry trays, hoping to make a quick buck from passengers before the five-hour ride to the gateway town of Besisahar. Before we departed, our rucksacks were carelessly stowed on the roof of the bus by the driver, all the while hoping it wouldn't get tossed overboard later on from some random bump on the road.
Upon observation there were two main types of buses, the tourist, and the local ones. Almost all, save for ours and one or two more, had the words 'Tourist' draped conspicuously across the top of the front windshield, they were parked all over the dirt lot, some in rows and others alone. They were more like coaches, and came in all colors, their size almost twice than that of the white-painted local ones, which we were to board.
Hours went uneventfully by save for the inevitable bumps and countless switchbacks on the way to Besisahar, I pulled back the curtains and peered outside my window on my left, my sleep-deprived face greeted by the orange rays from the morning sun, a red-golden disk partially obscured by the low-hanging postadolescent fog after we departed Pokhara at 6.30am. The driver would occasionally make unscheduled stops for toilet breaks along the way, the cold, stale air kicking me awake each time I stepped off the bus.
A bald Caucasian man a few rows in front of me caught my attention. As we set foot in Besisahar I approached him and mumbled an enthusiastic greeting, and inquired if he was walking a same route as well. Dennis Moosburger was a well-built, solidly-proportioned Berliner in his mid-twenties set on tackling the Circuit alone on a spiritual journey to learn more about Buddhism and eastern religion. His humble and intriguing stature drew me to him, and I instantly felt an almost brotherly connection, since part of my journey here would be to inundate my mind with the wisdom of Tibetan Buddhism and the teachings of Gautama Buddha.
It was decided that we would skip the first two days of the trek and start from Chamje, as there wasn't really much to experience, unless you enjoyed being mesmerized at endless walls of earthly brown dust-covered rainforests instead of pristine mountains. We managed to secure a driver that would ferry us to our destination for a thousand Rupees apiece from Besisahar, although through his body language he was rather unhappy at how much we were bargaining the trip for – and because we didn't have much daylight left, it'd be more than a daunting task, even for a skilled off-road driver, to navigate the precarious hillside roads after sundown.
The Indian-built Mahindra jeep stuttered a few seconds before roaring alive, diesel smoke coughing from the exhausts on the rear. We waded through a shallow creek and into the quiet hills for a good half an hour, before encountering our first checkpoint in Bhulbhule, which marked the official start of the Annapurna Circuit. I fiddled around my thigh pocket for my TIMS and ACAP permit cards, and promptly handed them to the officer at the desk in the nondescript two-storey building just off the dirt road.
My gaze shifted off into the horizon, where I could barely make out the faint outlines of the mountains against the backdrop of salmon pink evening, shrouded by layers of thick clouds, and I thought to myself– this is it. The start of a great adventure. The thought of walking on the shoulders of mountains had always called out to me, fueled more by the writings of Jack London and Jon Krakauer – the latter of whom wrote about the incredible story of Christopher McCandless, the fearless, eccentric nomad of high regard that instilled and kindled my adventurous spirit.
Two weeks of being surrounded by some of Mother Nature's greatest wonders – the majestic awe-inspiring peaks of the Annapurna and Dhaulagiri ranges. The Circuit had long been considered one of the world's greatest treks. Like all great journeys, the trek would reveal itself gradually, climbing through subtropical scenery to a Tibetan-influenced valley and then over the high Thorung La Pass to the Kali Gandaki Valley, a desert-like region that was once a vital trade corridor to Tibet.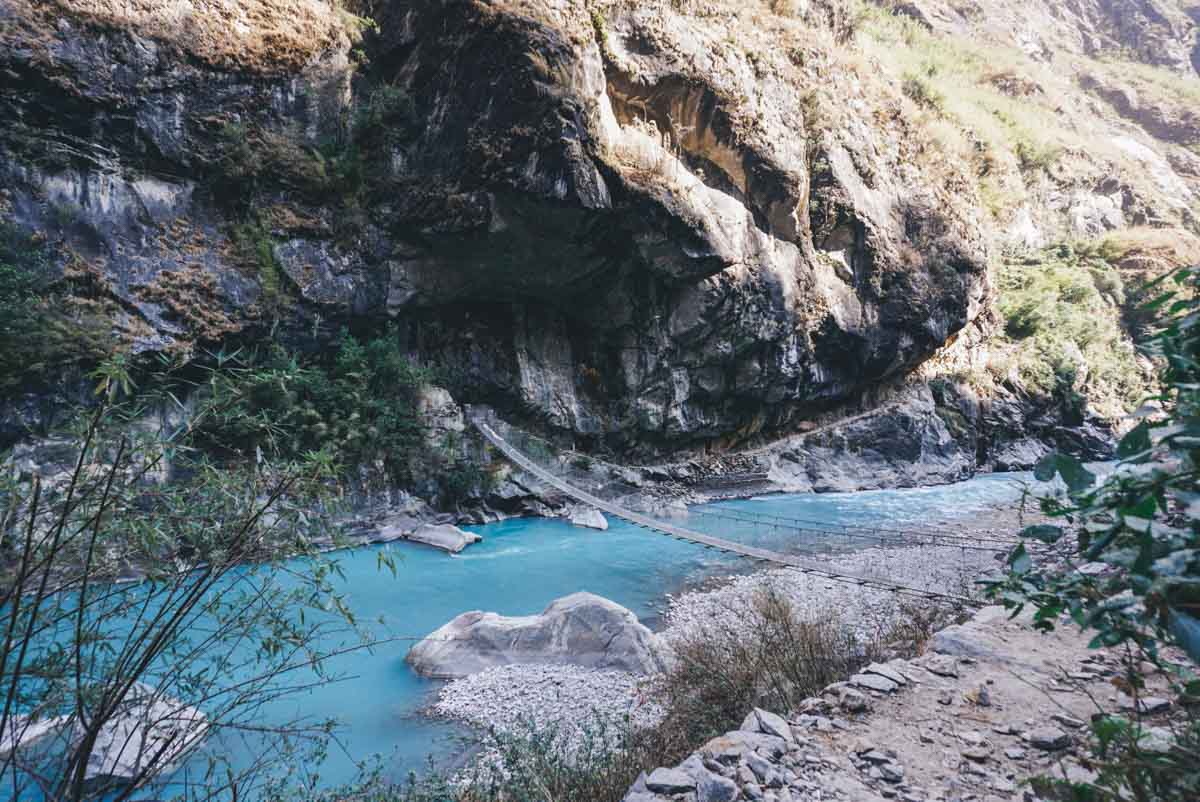 As I journeyed from Chamje through the rising foothills of the Annapurna Range on New Year's Eve, I began to reflect on the things that have happened throughout the past year. Although it hasn't really been a good year, 2016 was a year of firsts. It was a year of learning from experiences, both good and bad. The worst of it came when the foolishness of my actions caused a rift between a friendship that I valued so much some months ago in October. I felt that I needed to come here, to Nepal, to seek wisdom, redemption, and find an answer for my actions. That in mind, there was no better way than to have ended the year contemplating and reflecting quietly in the mountains in the days ahead. The people I've already met on this endeavor have such humble beautiful souls and I was eternally grateful to have crossed paths with them. It gave me hope and made me feel a lot brighter inside.
I sought to continue my endeavor with faith that whoever and whatever awaited me in the path I am walking and in the year ahead would empower me to grow as a better person. As you read on, I hope that my experiences here would inspire you to answer what is calling out to you. Learn to trust your instincts. Do what you feel is right – when you listen to your intuition, your heart, your gut feeling, you yield to and align with the highest and greatest possible trajectory of your life.
The silent air in the valley was interrupted with the rhythmic crunch of gravel under our dust-stained boots. I looked over to my right to find the turquoise waters of the Marsyangdi gently coursing downhill in the other direction a hundred meters below. That's as pure as water could get – straight from the mountains up ahead. In the next few days we would follow the river upstream until the shy peaks revealed themselves among the clouds.
I was treated to a surprise on New Year's Day. As the trail took me to elevations in excess of two-thousand meters towards Chame, I looked skywards to see the clouds gathered in grey splendor. Before long I noticed strange white particles begin to fall all around me. I was a fool for a minute, thinking it was probably volcanic ash originating from somewhere in the region. But the particles, they were as cold as ice, and began to melt as soon as they touched my skin. And that's when I realized, – it's snowing. It was my virgin experience with snowfall, and it felt surreal. Like a kid in a candy store, I walked with both arms raised to my sides, grinning and chuckling from ear to ear.
From out of the pale white horizon a local villager in her mid-forties appeared from a row of uninviting houses and offered shelter from the heavy snow. As we stepped inside, a single light bulb illuminated the cramped space lined by four wooden walls. I shifted my gaze to a dimly-lit corner, where small rows of glassware and porcelain reflected flames from a fireplace.
We gathered around, seated on the cold concrete to draw heat and watched as her two children, dressed in nothing but cotton t-shirts and shorts frolicked into the room. It hit me hard. It made me wonder how was it possible that it was so cold but these kids can survive dressed like that? Their faces lightly smudged in dirt and soot, they were welcoming of us and were delighted to have visitors. I imagine not many came around these isolated parts.
We were served Nepalese black tea and conversed more about the woman's life here. She had a husband that was working in Dubai as a construction worker for 9 months, and would not be able to see him for the next two years, with no form of communication whatsoever. All she had was this tiny house, her kids and a small plot of land in which she grew potatoes for a living. Life was really hard here. I told myself, one day I vowed to come back here to help this woman and her children for her kind acts. It was a really humble gesture and felt I needed to repay her in some way. Before we set off, we gave our extra Snickers bars to the kids and some Rupees to the woman and thanked her for offering us the much needed shelter from the blizzard.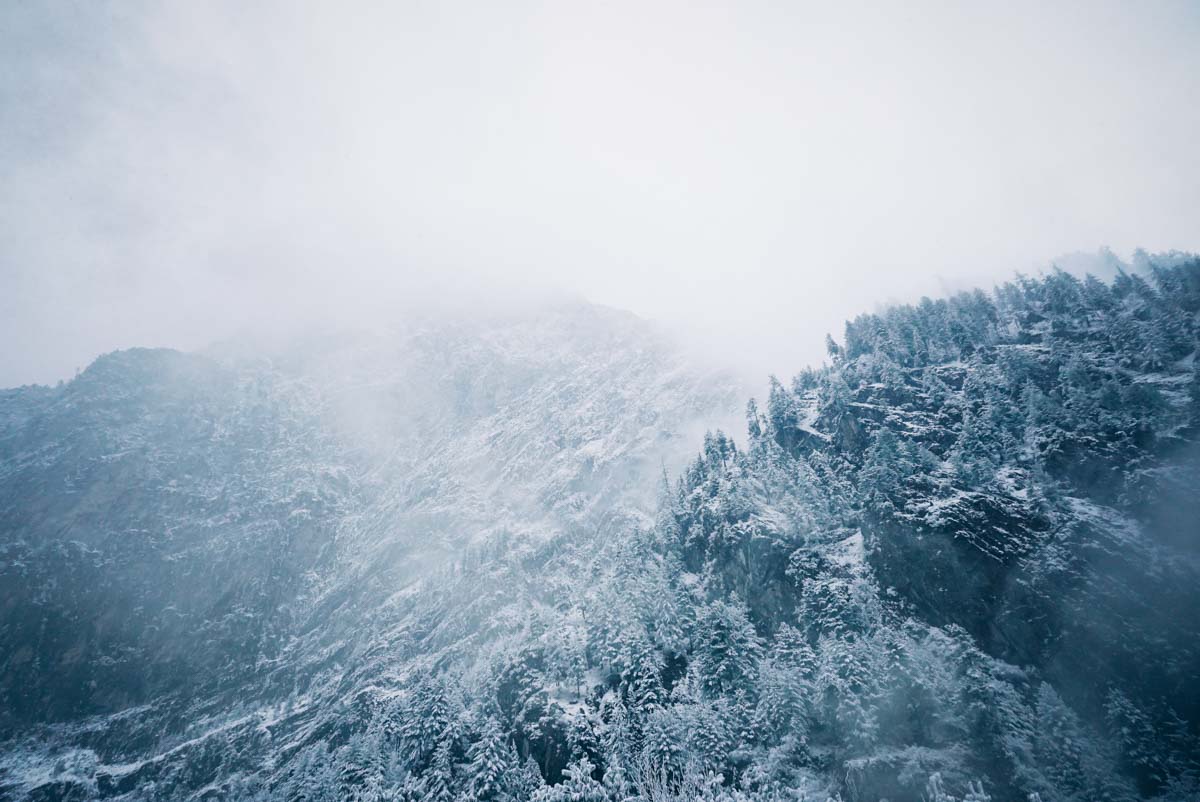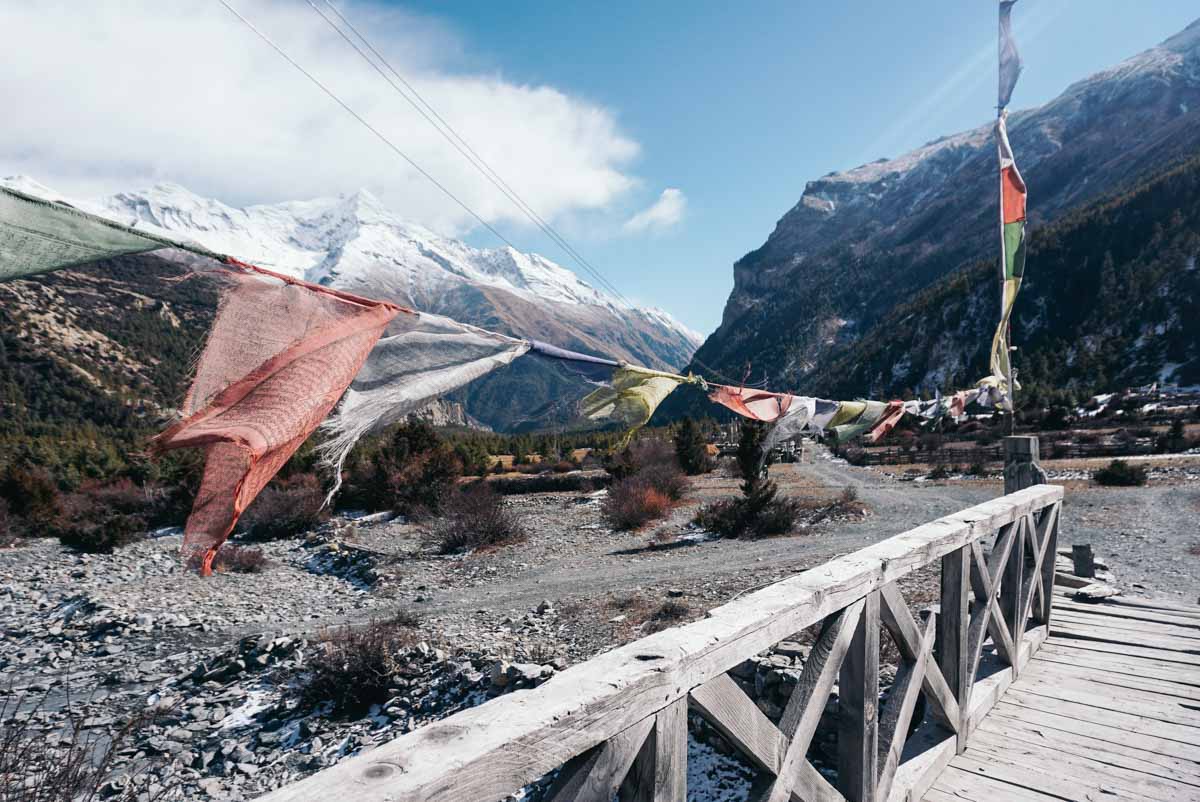 I left Chame for Lower Pisang the next day, on Day Five of the Annapurna Circuit. The environment had slowly transformed from a subtropical forest to a semi-arid landscape, groves of pine trees taking form, flanking the trail as it climbed higher towards the looming mounds of the snow-capped giants in the distance. The ground was still covered with a fresh carpet of snow from the night before. The chirping of birds and the neighs and huffs of wild horses were the music of the valley, the leaves of pine trees occasionally giving way to the weight of snow that had accumulated on them.
My knees were already hurting bad, probably from not being used to hiking uphill over long distances for extended periods of time and the cold temperatures that threatened to stiffen my joints. It was a pain i've never felt before – never experiencing similar issues while in the army. I was forced to walk at a slower pace than the others, using my trekking poles to stabilize myself whenever a steep incline presented itself. After almost two grueling hours of straight uphill hiking, the forest cleared out to reveal the massive expanse of the Marsyangdi Valley. To my right was an immense, beautiful rock face called 'Paungda Danda' – "Gateway to Heaven". It is said that the spirits of the deceased in the nearby villages would climb that imposing rock face as they ascended into the afterlife.
The magnificent view of the length of the valley kept me going, distracting me from the pain bearing down on my knees. I could clearly distinguish the summit of Annapurna II on my left flirting with the passing clouds, where spindrift from the evaporating snow on its mesmerizing 7937-meter peak took shape, forming ribbons of white clouds that drifted off with the southerly breeze, into the blue canvas of open sky.
The landscape was some of the most beautiful I have ever set foot in. This was Mother Nature in all its untamed glory. The tune of Eddie Vedder's 'Hard Sun' (of Into The Wild fame) accompanied me as I pressed on towards Lower Pisang, where, incredibly, of all the teahouses in this village, I chanced upon a group of Belgian trekkers who had stopped for the day; one of them just so happened to be a physiotherapist. She took notice of the way I was limping and offered to help me, sticking medical tape around my knees to secure the joints and prescribing me a small jar of Tiger Balm ointment. It is indeed, quite unbelievable – I felt like good energy was being passed on to me, or karma, as you might call it, for offering what we had to the woman that gave us shelter near Chame.
The 25-kilometer stretch along Marsyangdi Valley took me across the semi-arid plateau, where entire swathes of untouched pine forests thrived in the rain shadow of the Annapurna Range. The terrain became more arid, almost desert-like. On the way towards Manang, stone walls of mani wheels would mark the trail, spinning them with gloved hands as I limped by. The path dipped slowly, and I found myself stopping intermittently to take in the magnificent view. Everything here was beautiful, raw, unyielding. Surprisingly the air was so silent you could hear the high-pitched sound that rings in your ear.
In the observable distance ahead of me, a floodplain lay host to a deserted farmland, on which a herd of yak were grazing on the yellow plains. Streaks of colorful Buddhist prayer flags towered above the flat-roofed houses stacked against the mountainside, marking the town of Manang.
A major stop point for trekkers on the Circuit, everyone spends at least a day acclimatizing to the high altitudes in preparation for the high point at Thorung La pass. It is here where most people converge and come up with plans to tackle the pass together. At 3,500 meters, you could tell the difference of the thinness of the air here compared to at sea level. You find yourself tiring out sooner, and every breath takes a little more effort. Past Manang, the trail becomes more precarious.
My plan was to spend two days here, exploring this ancient Tibetan-influenced town and its narrow streets and hidden alleyways, and to partake in meditation in a quiet place nearby. It's almost like stepping back in time to medieval ages – stone bricks forming the walls of buildings, against the stunning backdrop of Annapurna III and Gangapurna. I was standing in the shoulder of giants. Between the two, the Gangapurna glacier forged a downward path towards the Gangapurna Lake – truly an awesome display of Mother Nature.
Following a short 15-minute empty-handed hike to the top of a nearby hill just north of town on the second day, I chanced upon a stupa overlooking the entire valley. I sat at its base and admired the view from there. It's amazing, how your mind is able to think much more clearly in a vast environment. I began to meditate and reflect on what the Hindu sadhu whom I made friends with, had told me days before in Kathmandu. It was some of the most important lessons I would learn in my life, and I am glad to be able to share his advice with you here.
"Seek forgiveness, and forgive others as soon as you can. Do not wait till the end of your life to resolve conflicts."
"Always strive to bring out the best in people, and filter out their bad traits."
"Simplicity is the truth of life. Greed is fed by having more of what we want, not what we need."
I spent most of the days keeping my journal updated as I ate the usual dinner consisting of dal bhat, steamed white rice and potatoes cooked in dal curry and served with lentil soup, and pickled radish, if you're lucky. Occasionally I indulged in raksi that my hosts would offer me. There is something so special about the people here in the Himalayas. From time to time I was asked, "How can I move my family to Singapore?" My response was a mix of my ignorance on Singaporean immigration policy, and an assurance that they are living a far more fulfilling life than anything that Singapore could offer.
But the constant response to my assurances that they were on the path to a fulfilling life were met with resistance and the lack of opportunity for the children. I can understand their perspectives about as much as they can understand mine. Living in the Himalayas and carrying out daily tasks of chopping wood, herding yaks, making fire and carrying water, seems as beautiful a life as anybody could ever ask for.  They seem to believe that the misunderstood abundance of what Singapore had to offer would be the best thing for their children. Not quite so.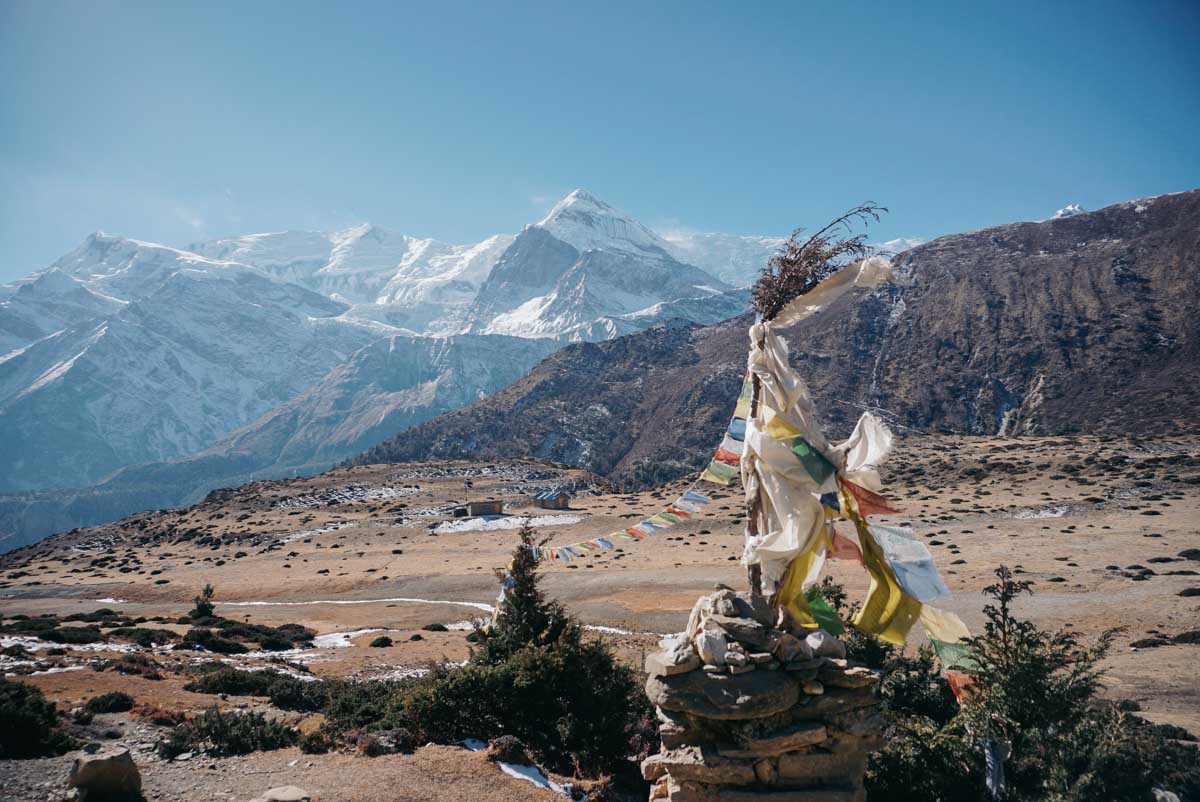 There were times where the journey seemed too tough to handle, dealing with injuries on both knees, nausea, the extreme cold and brutal wind chill. There were times where the thought of turning back or calling for rescue ran through the back of my mind. Safety in exchange for an incomplete journey.
I don't know what it was: the incredible view of the surrounding Himalayan peaks, the voice in my head telling me it was 'mind over body', or the fact that I was just hours away from one of the greatest accomplishments I would make in my life, that kept my legs functioning at 5000m in minus 30-degree weather in the inky-black mid-winter darkness.
I couldn't help but panic when I temporarily went numb at the fingertips despite having two layers of gloves on, while desperately gasping for the thin air under my scarf already rigid with ice at five thirty in the morning. It was a miserable 4-hour climb to the pass, but spirits were lifted when the sun finally broke the horizon and sketched the mountain tops in glorious hues of pink, red and gold, giving everyone on the trail the much needed motivation to press on against the elements. We chuckled at our pale complexions, at how ineffective the heat packs were at this altitude, and at the ice forming on our beards and eyelashes.
The false summits made the ascent seem like it went on forever, yet I found my legs forming a constant rhythm with the motion of my poles. I had to break new trail when the existing ones were covered by almost ankle-deep snow the night before, taking point for the rest of the group. At this stage, every step is a labored effort, as we snaked our way up the 45-degree incline on the final few hundred meters to Thorong La Pass at a staggering 5416 meters.
I found the adrenaline starting to kick in when the sign came into view from in between the snowy ridges less than a hundred meters ahead, heavily adorned in prayer flags. The mountains split on the sides, giving way to a 400-meter wide valley of rock, snow and ice. I found myself laughing loudly in the face of Mother Nature. Picking up speed, I made a beeline for the ridge, before dropping my gear right in front of the sign. The emotions ran wild, I screamed at the top of my lungs, both fists pumping the air. At that moment, I felt the sheer happiness, the tears of joy, the goosebumps, all mixed into this concoction of elation I can't describe. All that time spent walking the days before… it definitely was worth every painful step. I felt… redeemed. I have aligned with the greatest possible trajectory of my life.
It's times like these, when you are pushing your physical, mental, and emotional limits. And then you achieve what you thought impossible. Your mind, body and spirit are forged and strengthened under these harsh conditions, from being cold, uncomfortable, tired, and scared. They help you grow, and by growing you inspire those around you to do the same.
Life's a journey of self-improvement, and you aim to be a better person with every step you take.
This is what it means, to be alive.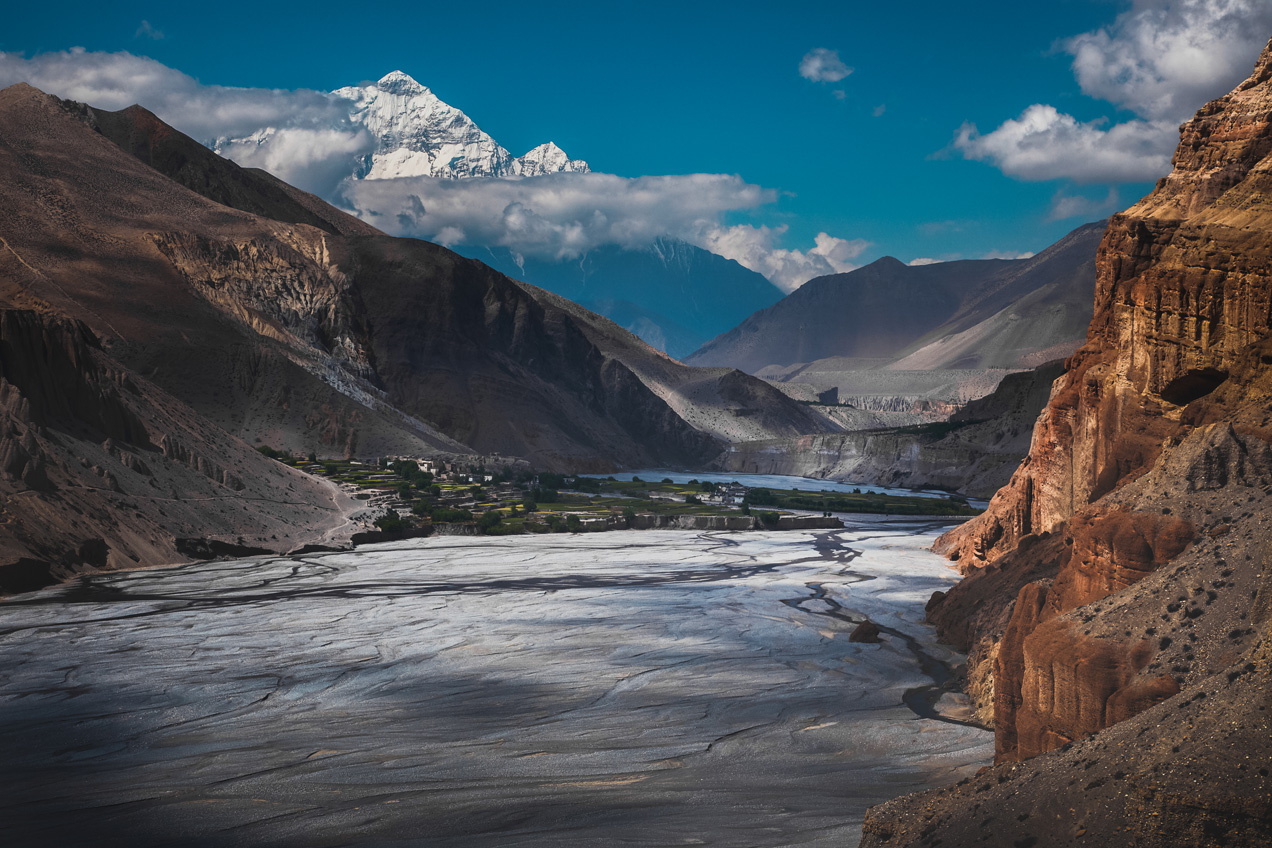 "As once the winged energy of delight carried you over childhood's dark abysses,
now beyond your own life build the great arch of unimagined bridges.
Wonders happen if we can succeed in passing through the harshest danger;
but only in a bright and purely granted achievement can we realize the wonder
Take your practiced powers and stretch them out until they span the chasm between two contradictions,
For the god wants to know himself in you."
– Rainer Maria Rilke